Welcome note from the new President, Professor David Williams
I am humbled, honoured and privileged to assume the role of President of the Irish Association of Pharmacologists (IAP) for the next two years and I am deeply grateful to my predecessor, Professor Thomas Walther for his commitment, leadership and outstanding contributions to the Association during his presidency and the members of the Executive Committee.  I am inspired by their commitment to grow the Association and I look forward to continuing on this path.  In this endeavour, I am joined by, Dr Christian Waeber (Vice President); Professor Dermot Cox (Secretary) and Dr Anne Marie Liddy (Treasury), and together we aim to further our accomplishments.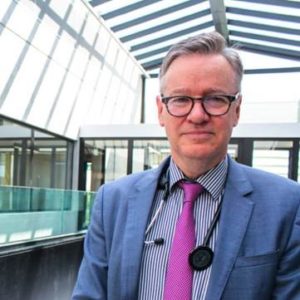 Professor Thomas Walther's Farewell Speech
I am honoured to have been given the opportunity to serve as President of the Irish Association of Pharmacologists (IAP) for the last years, and I would like to take this opportunity to thank our Executive Committee and Members for their continued support and commitment to our Association.  It has been an exciting period and some of our successes include:  organising two successful IAP annual meetings in Dublin (2017) and last year in Belfast (2018); becoming a member of The International Union of Basic and Clinical Pharmacology (IUPHAR) and starting the process of joining The European Association for Clinical Pharmacology and Therapeutics (EACPT).  In addition, we also initiated the Professor John Feely Gold Medal.
To Professor David Williams and the Executive Committee, I would like to wish you well in the years ahead and hope that together we can continue to grow the Association.  I would also like to encourage our members to spread the word of our Association, so we can attract more member and followers.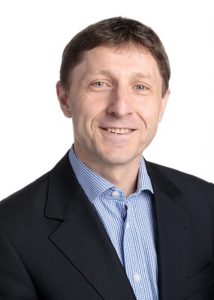 19th Annual IAP Meeting, Friday 30th November 2018
The Irish Association of Pharmacologists 19th Annual Meeting took place on Friday 30th November 2018 at The Wellcome Wolfson Institute for Experimental Medicine, Queen's University Belfast
The purpose of the IAP's 19th annual meeting is to provide a platform for leading researchers to present their findings in basic and clinical pharmacology, and in therapeutics.  The President of the Irish Association of Pharmacologists, and Head of Department of Pharmacology and Therapeutics at UCC, Prof. Thomas Walther, along with the Conference President, Professor Barbara McDermott, would like to take the time to congratulate the winners, namely:  Aisling Heeran, Stephanie Annett, Raman Abudalo, Sarah Craig and Chao Xue on the awards they received for best oral presentations or best posters.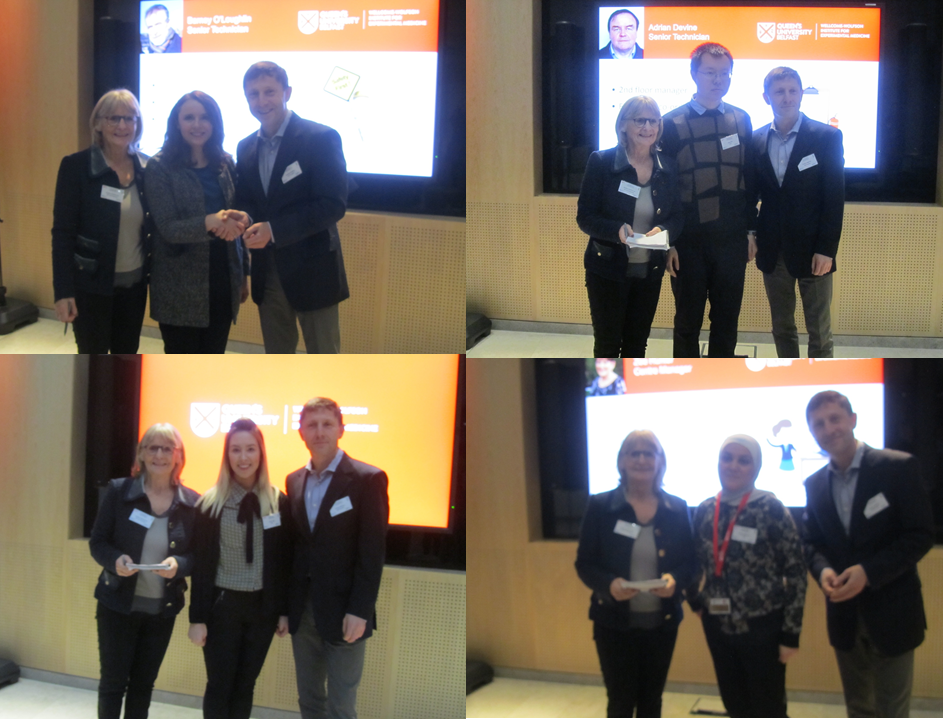 Prize recipients for best oral presentation or best poster
Several students from UCC also attended the conference and can be seen presenting their posters.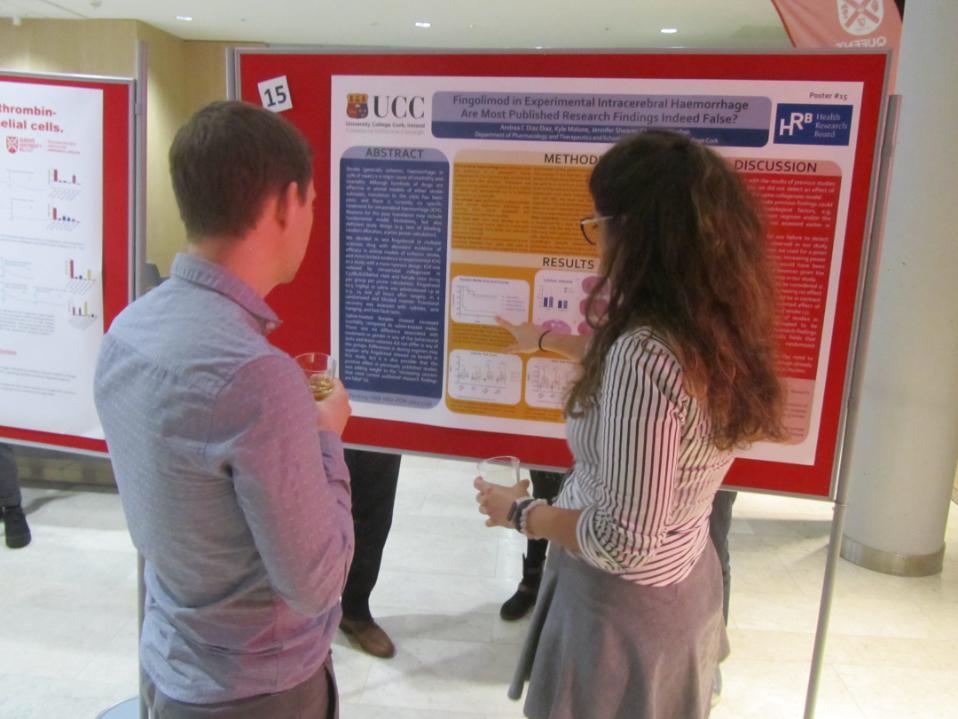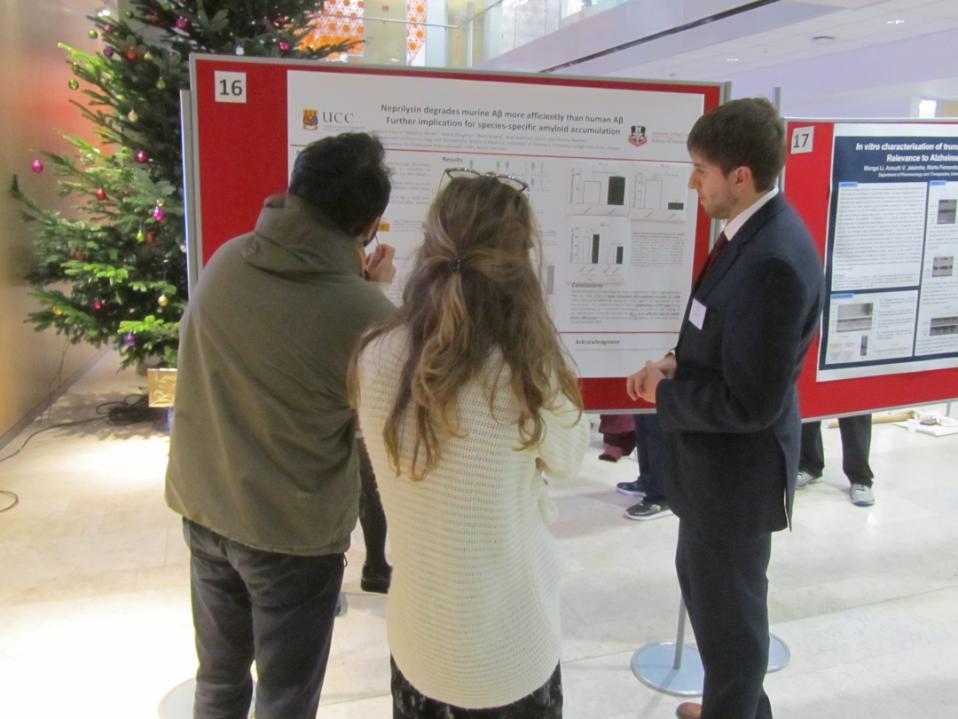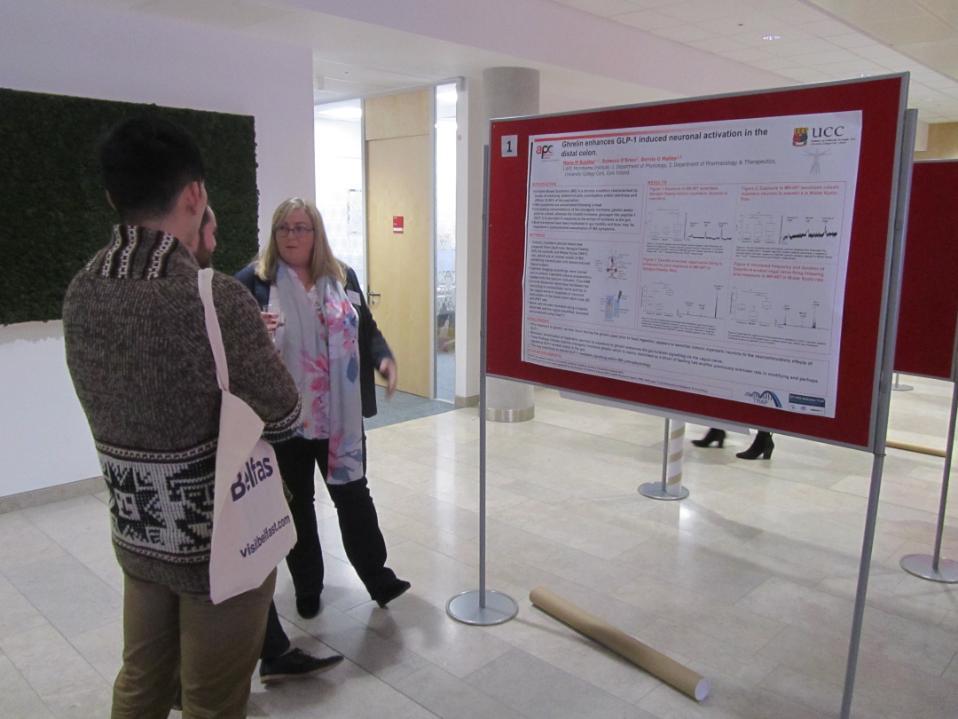 Other notable captured on camera and video