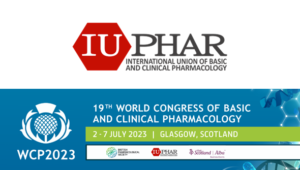 IUPHAR-Ed Nominations Now Open
We are inviting nominations to join the IUPHAR Education Section Executive Committee, as Councilors for the period from WCP2023-WCP2026(July 2023-July2026) we outline the aims and current work of IPUHAR-Ed, give a brief description of the role of Councilor, and link through to the online nomination form. Self-nominations are encourages, and we are looking to elect a diverse range of members to represent our global community.
IUPHAR-ED aims include to:
Foster, promote, encourage, develop and support innovative teaching, learning and assessments of basic , clinical and translational pharmacology to higher education pharmacology students and wider audiences,
Promote global communication and cooperation between educators/teachers and other interest groups representing pharmacology and related disciplines.
Create forums to present and exchange idea related to pharmacology education.
We are looking to elect roughly 12 councilors who will attend quarterly meetings and support the activation of the section. You will be required to submit a supporting statement(400 words) outlining how your skills and experience can be used to support this section.
The deadline for submissions is Friday 28th April
If you have any questions please contact IUPHAR Education Section Chair : clare.guilding@ncl.ac.uk
The link to the nomination form can be found here
World Congress of Pharmacology 2023 Education Satellite and Innovation Workshop
We are delighted to inform you about two upcoming opportunities to engage with the international pharmacology education community.
The IUPHAR Education Section is organising an Education Satellite Meeting. Hosted at Strathclyde University, Glasgow, just before WCP2023, it will bring together pharmacology educators from across the globe, to share ideas, expertise, resources, and innovations.
We invite you to submit your abstracts for oral or poster presentations through this website: Education Satellite Meeting Abstract Submission. The deadline for abstract submission is the 5th March 2023.
Information about this two day Satellite, including the Programme and link to Registration can be found here: IUPHAR Education Satellite Meeting. The registration fee has been set to be as affordable as possible, at £60 for the full two days including lunch and refreshments if you are attending the main WCP2023 meeting, and £80 if you are just attending the Satellite. The deadline for registration is the 1st June 2023.
With a thriving pharmacology education community across the globe, there is a wealth of new and innovative teaching resources, strategies and methods being developed to enhance and improve the quality of education and training. At WCP2023 in Glasgow, we will host an Emerging Innovations in Pharmacological Education workshop. This will run from 13:35 – 16:00 on Wednesday 5 July 2023 in the Innovation Theatre.
The workshop allows for the illustration of content and resources which support the learning and engagement of students, the public, patients, or wider audiences with pharmacology. If you have a resource or tool that you would like to showcase, please apply using the form: Emerging Innovations in Pharmacological Education workshop submission form. The deadline for proposal submission is the 5th March 2023.
Q1 2023 News and Updates
Announcing: The WCP Lifetime Achievement Award
The Lifetime Achievement Award was established by the International Union of Basic and Clinical Pharmacology to honor pioneering contributions to the field. The award is given for significant and sustained work that advances and extends knowledge in pharmacology as well as an exceptional contribution to the advancement of IUPHAR. The Award Committee is chaired by the current President and is composed of the immediate past President of the Union and members of the Executive Committee.
Highly Cited Researchers
The Clarivate list of Highly Cited Researchers in pharmacology and toxicology has just been published and of the 153 named scientists, 15 work closely with IUPHAR.
WCP2023 Registration, Abstract Submission, Programme, and Accommodation Information
Here's your passport to a world of cutting-edge science and unmissable career opportunities. The WCP2023 programme features a range of scientific sessions underpinned by excellent science and promotes collaboration, innovation, and discovery.
Submit a satellite meeting proposal
Start planning to attend today
World Smart Medication Day Recap
With over 400 participants, World Smart Medication Day aimed to foster clinical pharmacology development and raise awareness on safe and effective uses of drugs. The 2022 theme was "Clinical Pharmacology in the Era of Pandemics," which was a relevant and pertinent topic because clinical pharmacology is a key discipline for managing these drug-related problems.
The World Smart Medication Day webinar took place on 5 May 2022 and included: a welcome address from the IUPHAR president, a plenary lecture on clinical pharmacologists and the UK's response to COVID-19, a lecture on clinical pharmacologists in Africa and Latin America.
Early Career Researcher Committee Update
The overall goal of this committee is to provide a voice for early career pharmacologists to the IUPHAR Executive Committee. It provides a means for early career pharmacologists to engage with IUPHAR and other pharmacological national member societies.
The ECR Committee will work closely with the Executive Committee on various tasks including communications, IUPHAR newsletters, governance matters, conferences, and other IUPHAR meetings
International Forum for Early Career Researchers on Pharmacology of Natural Products and Traditional Medicines
The forum, themed "Target Discovery of Natural Products," was co-organized by the Section on the Pharmacology of Natural Products (SPNP), IUPHAR, and the Chinese Pharmacological Society (CNPHARS). The three virtual forums attracted more than 700 participants from Europe, Asia, Africa, and other regions.
The IUPHAR and its Clinical and Translational Section has been in active collaboration with the Spanish Society of Clinical Pharmacology and the Argentine Association of Experimental Pharmacology (AAFE) to organize a Clinical Pharmacology Course divided into 3 parts. There were Latin American/IUPHAR Clinical Pharmacology Courses on November 2, 9 and 16 from 3:00pm – 6:00pm (CET). In general, the increasing complexity of clinical drug development has become evident in recent years. Currently, clinical research with drugs or medical devices faces many challenges such as the repositioning of marketed drugs for new indications or the evaluation of new therapies that include biologics or gene modifying agents, which often implies a redefinition of traditional endpoints in efficacy and safety from a perspective of precision medicine.
There have been several publications from NC-IUPHAR in the British Journal of Pharmacology in 2022, some of which were initiated from the twice-yearly meetings of the Nomenclature and Standards Committee (see below). These twice-yearly meetings (in spring and fall) continue to take place as virtual meetings, although it is anticipated that the spring 2023 meeting will allow attendees from within Europe to gather in Paris for discussions. As always, a central focus of these meetings is the database at GuidetoPharmacology.org and the provision of evidence-based content. Beyond these meetings, a current focus of NC-IUPHAR is a systematic analysis of the Family A orphan GPCR, with a view to identifying provisional putative endogenous ligands and reviewing evidence for deorphanizations.
This article summarizes major achievements that IUPHAR has achieved since the establishment of the new Executive Committee (EC) at the Kyoto World Conference of Pharmacology in 2018. Moreover, members of the EC briefly describe their challenges and successes.
Please read the article titled "Progress Towards Environmental Pharmacology"
Member Society Conferences & Meetings
17 October 2022 – Introduction to Translational Research for Rare Diseases Course
27 October 2022 – Frontiers Planet Prize: Science for a Sustainable Planet
2, 9, & 16 November 2022 – Latin American IUPHAR Clinical Pharmacology Course
11 November 2022 – Irish Association of Pharmacologists Annual Meeting
29 November to 2 December 2022 – APSA-ASCEPT 2022 Joint Conference
21 & 22 November 2022 – Lungs: More than an Organ of Gas Exchange
6 to 9 March 2023 – 8th German PharmTox Summit
23 March 2023 – Genomics in Drug Discovery and Development Training Workshop
27 & 28 March 2023 – Binding Kinetics & Mechanistic PK/PD Modeling in Early Drug Discovery
18 to 21 May 2023 – ASPET 2023 Annual Meeting