The Irish Association of Pharmacologists:
Executive Committee 2016-2022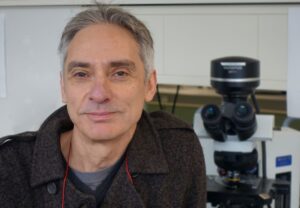 Professor Christian Waeber: President 2021-2022
Head of Department of Pharmacology & Therapeutics at University College Cork
Christian Waeber joined University College Cork (UCC) in 2013; he is Head of Department of Pharmacology and Therapeutics in University College Cork. Early in his career, Dr. Waeber worked as a Ph.D. student at Novartis Basel, where he characterized the pharmacological profile, signaling pathways and brain distribution of 5-HT1D receptors. Dr. Waeber then joined as a post-doctoral fellow the laboratory of Joel Bockaert, at the "Centre CNRS-INSERM de Pharmacologie-Endocrinologie" in Montpellier. In 1993, Dr. Waeber joined Harvard Medical School to characterize the pharmacological profile of 5-HT1-like receptors inhibiting neurogenic inflammation, a research carried out in collaboration with Michael Moskowitz.
Ten years ago, Dr Waeber switched topics, largely abandoning research on 5-HT to focus on the role of sphingosine-1-phosphate (S1P) receptors in blood vessels and brain. These blood vessel studies are significant for the treatment of cerebrovascular disorders (e.g. stroke, vasospasm), and conditions such as diabetes, atherosclerosis, pulmonary hypertension or cancer. Dr. Waeber's team has also shown that S1P receptors have a widespread distribution both in adult and developing brain. They have characterized the CNS distribution of the S1P synthesizing enzyme, sphingosine kinase (SK), showing that it is up-regulated in neurons following ischemia. Finally, they have shown that stimulating S1P receptors with a pharmacological agent (FTY720/fingolimod) or endogenously-produced S1P (preconditioning) protects the brain from ischemia-induced damage. Finally, Dr. Waeber's team has shown that administering fingolimod as late as 24 hours after reperfusion in a mouse model promotes long-term stroke recovery. His team has recently published that fingolimod reduces the neurological deficit and infarct volume after in situ thrombo-embolic occlusion of the middle cerebral artery, a model likely to better mimic the features of stroke in humans: combination of fingolimod and tPA improved the neurological outcome of the thrombolytic therapy and reduces the risk of hemorrhagic transformation associated to delayed administration to tPA.
Professor Martina Hennessy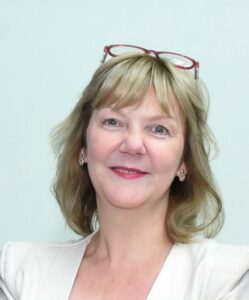 Professor Martina Hennessy : Vice President 2021
Associate Professor Consultant Medical Education, Trinity College Dublin.
Martina Hennessy is a clinical pharmacologist and consultant physician at St James's Hospital Dublin with clinical expertise in hypertension, cardiovascular risk and medication safety and research interests in antiretroviral pharmacology and Medical Education. She previously held positions as the Associate Dean of Research for Trinity College Dublin and as Director of Undergraduate Teaching and Learning at the School of Medicine
She is the Clinical Director of the Wellcome -HRB Clinical Research Facility at St James's Hospital. The CRF is a collaborative partnership between Trinity College Dublin and St James's Hospital and has performed over 300 studies including 80 regulated clinical trials since opening in 2013. Under her leadership the CRF has developed its aseptic compounding and GMP capacity, accumulated over 15 million in funding and acquired expertise in delivering advanced therapy and early phase complex clinical trials including gene therapies for Haemophilia and Spinal Muscular Atrophy. She was the Deputy Director of HRB Clinical Research Co-ordination Ireland (HRB-CRCI) until 2021.
Martina is an Associate Professor in the School of Medicine at Trinity College Dublin, Director of Internship and the National Academic Internship Track (AIT) and is a founding Director of the Irish Clinical Academic Training programme (ICAT). She has won significant funding for medical education research both at home and internationally with a particular interest in academic career development.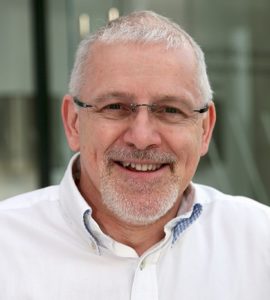 Professor Dermot Cox: Secretary
Pharmacology Lead with RCSI School of Pharmacy and Biomolecular Sciences (PBS)
I graduated with a BSc in Pharmacology (University College Dublin, 1983) and a PhD in Immunology (Dublin City University, 1989). I then led a GPIIb/IIIa antagonist drug project in Fujisawa Pharmaceutical Company, Osaka, Japan for 6-years. I then worked for one year in University of Sheffield where I started my work on platelet-bacteria interactions. I subsequently joined Royal College of Surgeons in Ireland where I am currently the pharmacology lead. I also acted as consultant to a number of pharmaceutical companies for both their pre-clinical and clinical programmes. I taught modules on drug discovery & development on a Masters in Pharmaceutical Medicine programme. I am an academic editor for PLOS One and I am on the advisory board of Journal of Thrombosis and Haemostasis. I was meeting president for International Society on Thrombosis and Haemostasis SSC meeting in 2018.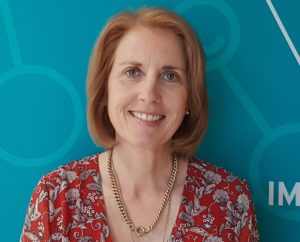 Dr Orla Patricia Barry: Treasurer (2020 to 2022)
Lecturer with the Department of Pharmacology & Therapeutics at University College Cork
Dr. Barry PhD, MA (H.Ed.) received her bachelor's degree in Biochemistry from University College Cork, Ireland. She carried out a PhD in Pharmacology at the University of Pennsylvania, USA, investigating novel mechanisms of transcellular lipid metabolism. Subsequent post-doctoral positions in the US involved the study of isoprostanes as indices of oxidant stress. Dr. Barry returned to Ireland as a Health Research Board (HRB) fellow upon the inception of the Cork Cancer Research Centre, University College Cork, Ireland. As a HRB fellow she identified novel mitogenic signalling cascades in esophagogastric micrometastatic cancer. She later joined the Department of Pharmacology and Therapeutics, University College Cork, Ireland as a lecturer where she set up her own research group.
Dr. Barry's area(s) of interest are how tumour signalling events drive oncogenic progression and how strategic events can be exploited to develop more effective treatment options. Her laboratory focuses on the study of different families of serine/threonine kinases that play key roles in signalling mechanisms following activation of seven-transmembrane and receptor tyrosine-kinases. In particular her group explores the role of Paks, p38 MAPKs, and PKCs which exert a variety of cellular effects including changes in proliferation, malignant transformation, cell death and differentiation. Her research has exploited the activation of p38 MAPK as well as PKC as a pro-apoptotic and anti-proliferative agent in oesophageal cancer. Re-introduction of p38 MAPK into different cancers which lack this isoform including oesophageal, renal, prostate, lung and liver has had profound effects on cancer cell proliferation and apoptosis. An important aspect of her research is to also elucidate the signalling pathways underlying the apoptotic effect of these kinases using both pharmacological and molecular experimental approaches. The identification of different kinase isoforms involved in cell proliferation and cell death in different types of cancer may have important therapeutic implications for the treatment of the disease.
In addition Dr. Barry is also exploring how epigenetic changes to the genome contribute to the progression of cancer. In particular the search for biomarkers like hyper- or hypo-methylated genes in oesophageal cancer in the context of early detection or diagnostic markers, or predicting response to treatment is an area of active research.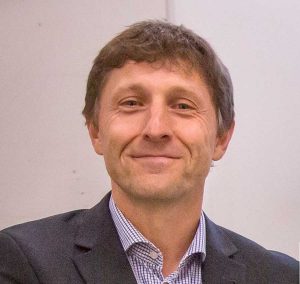 Professor Thomas Walther: Former President (2016 to 2018)
Chair in Pharmacology at the Department of Pharmacology & Therapeutics at University College Cork
In 2000, Prof Walther became Research Assistant Professor and Head of the research group on Molecular Cardiology at the Benjamin Franklin University Hospital, Berlin, Germany. Four years later, he was appointed to the Associate Professorship at the Department of Pharmacology at the Erasmus Medical Centre in Rotterdam, the Netherlands, where he was also Head of Molecular Pharmacology.
In 2007, he was appointed to the Chair of Biomedical Sciences and held the full professorship of Cardiovascular Physiology at the Hull, York Medical School, University of Hull, UK. In August 2009, he was recruited by the University of Giessen, Germany to establish the Department of Experimental Cardiology and held the commission for the Excellence Cluster Cardio-Pulmonary System (ECCPS) for the Department until July 2011. In 2009 and 2010 he was appointed to two Visiting Professorships at the University of Leipzig, Germany and at the University of Ipatinga, Brazil, respectively.
The international orientation of Prof. Thomas Walther's research has increasingly gained in importance over the past years, especially in the fields of programs that combine basic and translational research in order to improve the prediction and treatment of cardiovascular diseases. He is consequently following the strategy of molecular investigation, followed by evaluation in animal models, and finally establishing proof of concept in humans aiming to find new therapeutic strategies.
Using these complex approaches, he is investigating the role of three different peptide systems (renin-angiotensin system, kallikrein-kinin system, natriuretic peptide system) in the aetiology of different diseases, mainly focused on cardiovascular pathophysiology in end-organs such as the brain or heart. Since identifying intense interactions of these systems, he is interested in finding out how an imbalance of cross-talk can influence the development of heart failure and vascular diseases. These investigations are especially focused on altered gene regulation, modified receptor/receptor interaction, and receptor mediated intracellular signalling.
Professor Walther's main aims are to continue improving the understanding of the roles of these important signalling systems in cardiovascular disease and to identify pharmacological targets for new drugs. The ultimate aim is to improve patient outcome from cardiovascular conditions. Over the last ten years this research has resulted in over 110 papers published in peer reviewed scientific journals.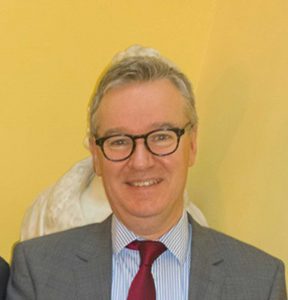 Professor David Williams: Former President 2018-2021
National Speciality Director of training for Clinical Pharmacology and Therapeutics
Professor David Williams qualified in Trinity College Dublin in 1994. He was awarded a PhD in 2002 for his work on Pharmacoepidemiology. Following completion of Higher Medical Training at St James Hospital, Dublin he was appointed consultant Clinical Pharmacologist and Stroke Physician in Aberdeen in 2002.
He served as Clinical Vice-President of the British Pharmacological Society from 2007 to 2010. He is currently the managing editor of the European journal of Clinical Pharmacology. In 2009, he was appointed Associate Professor in Geriatric Medicine at the Royal College of Surgeons in Ireland / Beaumont Hospital, where he has helped develop the Acute Stroke Service and undergraduate teaching curriculum in Geriatric Medicine.
Professor Williams is currently the National Speciality Director of training for Clinical Pharmacology and Therapeutics. His research interests include Stroke Medicine, Hypertension, Patient Safety, Prescribing and Medication Errors.
Professor Williams's research interests include Pharmacoepidemiology and Patient safety, Vascular medicine and Drug Metabolism. His PhD thesis was based on examining prescribing patterns and measures of prescribing quality within the General Medical Services (GMS) scheme in Ireland. Studies in pharmacovigilance, drug utilisation and prescribing quality were performed which led to a number of publications and demonstrated the usefulness of such a database in examining real world prescribing patterns. Recent work has focussed on inequalities in prescribing in patients with cardiovascular disease and stroke.
Professor Williams's Clinical Research is focussed on vascular and stroke medicine with a particular interest in arterial compliance, hypertension and platelet function. Following validation of the technique of pulse wave analysis (PWA) in assessing arterial compliance he embarked on a number of studies in this field. Professor Williams has previously investigated aspirin resistance (those with a true biochemical defect which makes them resistant to the thromboxane pathway-inhibiting effects of aspirin) in patients with ischaemic stroke who are already receiving aspirin by examining platelet aggregation, platelet activation status and thromboxane generation. He has previously obtained funding from Heart Research UK to examine the phenomenon of a rebound in platelet activity following the cessation of clopidogrel therapy.